Active Captain
Over 70.000 POIs to make your Marine Navigation safer and relaxed. Marinas, hazards, anchorages and local knowledge all this at a finger tip.
Database management
From the main Settings page you can open the ActiveCaptain Settings page, were you can:



download the Active Captain data offline (needed to use the functionality).
NOTE: the first time downloading will require some minutes, while you can continue using the app.
NOTE: It is not needed to login to the ActiveCaptain account. This is needed only if you would then add/modify a review.


update the ActiveCaptain data by pressing the "Update now" button. Or you can chose one of the available automatic update options.


enable/disable the drawing on the map of the ActiveCaptain objects with the "Display on map" button. You can also fine tune what to draw on the map using the 4 object (marina, hazard, anchorage and local knowledge) icons. Tapping on the specific button will enable/disable the drawing of the corresponding set of objects.
NOTE: these settings will impact also the Route Explorer search engine. The features that are not displayed will not be found by the Route Explorer engine.


select the preferred size of the ActiveCaptain icons.


enable/disable the drawing of the objects name on the map (just below the corresponding icon).
NOTE: when enabled the names will be drawn only at detailed scales.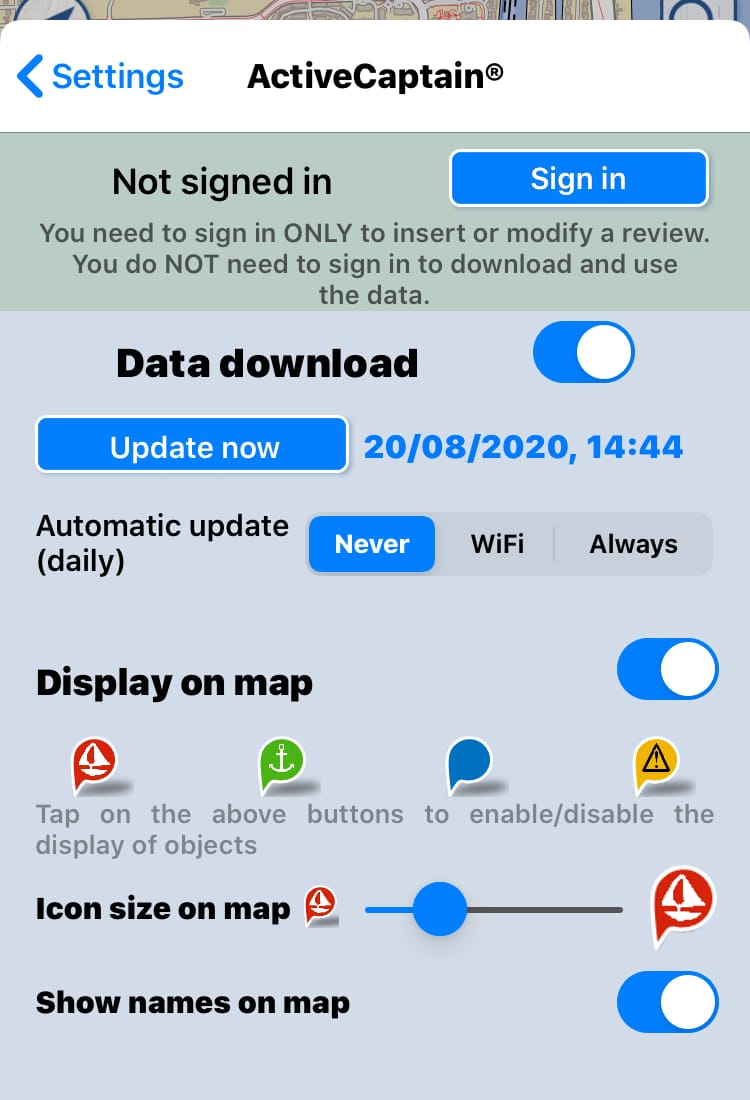 Object info
To get all the details of an object,

tap

on the corresponding icon on the map and select the

and you will open the relative info dialog. For each object there are different information available like name, description, opening time, etc. and the rating by other users. From this page you will be able to see the various information available and add your rating and review about the selected item.

Press the upper right STAR icon to enter your comment/review.

NOTE: you can also edit the content by pressing the upper right PEN icon

(this operation will redirect you to the Active Captain website)